Description
This product is not in stock and can be ordered by sending an email to info@homegrowmalta.com, calling on 77078072 or by visiting one of our shops. A 50% deposit is also required to confirm the order. Delivery costs are included and takes 7-12 days.
RAIN system - 9 x 30L
The ALIEN ®️ RAIN ™ ️ system is a revolutionary automated sprinkler system that replicates rain. The system can be used with soil, coco or any other substrate of your choice and can be used as a recirculation or RTW (run to waste) system.
The RAIN ™ lid efficiently delivers nutrients and air in the form of rain. This technique removes all residual depleted nutrient salts and replaces them with fresh salts. The RAIN ™ cover blocks  the light thus preventing the formation of algae.
The SILVER series has in addition to the BLACK series a silver Polymer heat-reflecting coating and more efficient pumps and pipes.
Patent-pending Dual-Flow™ fittings are 50mm oversized for a smoother system. These fittings are over 3 times the internal size of the 32mm. They allow water to pass through slots located on the sides of the fitting, allowing total drainage of the pot.
A 50mm heat reflective silver pipe is used compared to the Black Series green 32mm.
The jars and lids are also made from heat-reflecting silver polymer.
The Silver Series features copper-plated drain covers that prevent roots from entering the piping.
Optional tank
Alien recommends a 280L tank for this system.
Benefits :
Complete kit ready to use

Imitate the rain

Even distribution of nutrient solution

Eliminates residual salts

Removes top surface algae

Quiet operation

Easy to install
Features :
Integrated filtration

RAIN™ Controller

RAIN™ Pump

SPX-Flow® Pump

Drainage bases

Copper drain cover

50mm Silver Polymer Pipe
Specifications:

RAIN ™

 

feed pump AR01001 - 200W


Maximum flow: 3500 L / h

Drain Pump




Model: SPX-Flow®




Maximum Flow: 2270 L/h




Voltage: 12V DC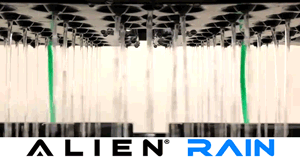 Payment & Security